---
Island Farm CITC
---
Bridgend's Sporting Chance
---
On behalf of HD Ltd, a planning application is to be submitted for a Tennis Centre development at Island Farm, Ewenny Road, Bridgend.
HD Ltd is a Bridgend based local developer and the long term owner of Island Farm. The description of development for the application is:
"Indoor and outdoor tennis centre, landscaping, car parking, highways/pedestrian improvements, and associated works, in addition to a new car park and amenity area for the adjacent care home"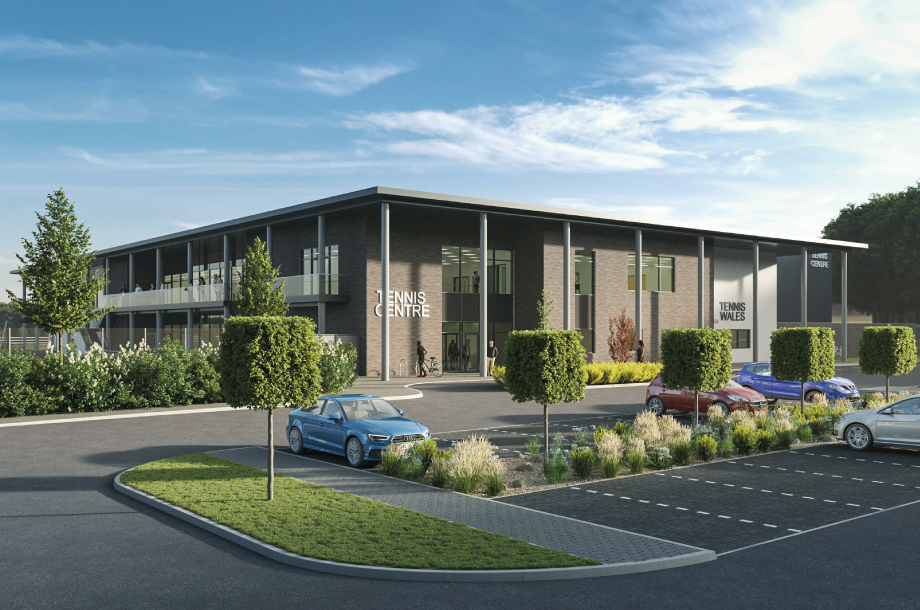 Image: Tennis Centre (artist's impression)
The proposal has evolved in partnership with the LTA and will provide excellence in tennis coaching programmes and facilities that, whilst supporting the local community, will enable players of all ages and abilities to fulfil their tennis potential. This development would sit as part of a network of High Performance Centres, and has with potential to host LTA accredited tournaments, provide a training hub for tennis players across South Wales, and be a base for Tennis Wales, the National Governing Body of tennis in Wales.
The development will comprise of an indoor tennis centre consisting of six tennis courts as well as ancillary space such as a reception area, changing rooms, lounge, fitness suites, and other auxiliary spaces. Externally, four tennis courts with viewing areas will be provided. The development also provides an opportunity to provide additional garden/amenity space and car parking for the adjoining care home Pen-Y-Bont Court, operated by Fieldbay Ltd.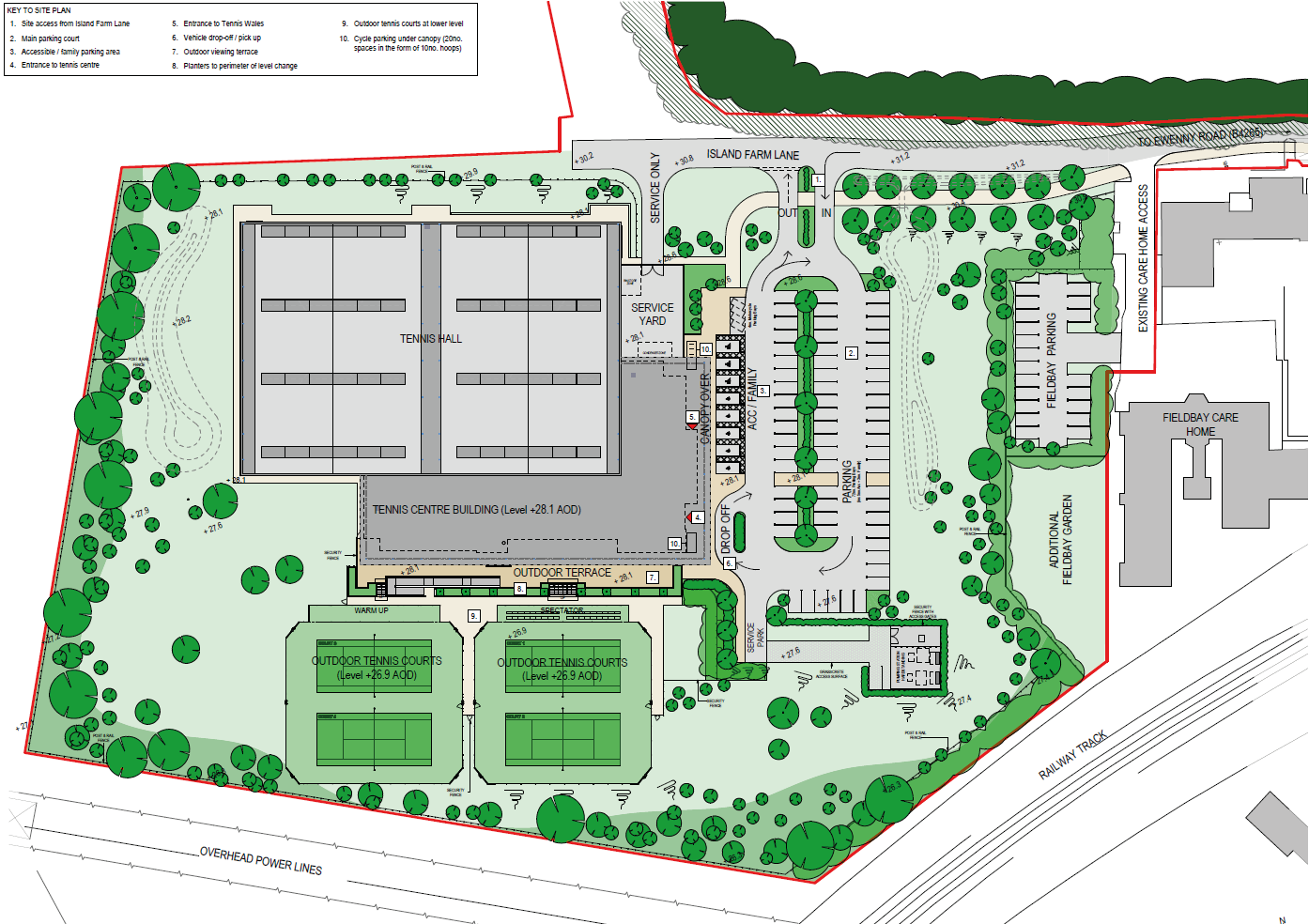 Image: Site plan
This web page provides public and statutory consultees with an opportunity to view the draft planning application documents and make comments on them, prior to the formal submission of the planning application to Bridgend County Borough Council. Application documents are contained within the tabs below along with arrangements for providing comments.
---
Documents
---
Draft versions of the documents that will be submitted as part of the planning application are listed within the tabs below.
---
Comments / Contact
---
The Planning Applications (Temporary Modifications and Disapplication) (Wales) (Coronavirus) Order 2020 removes the requirement to make application documents available at a local library. If you are experiencing difficulties viewing the documents online please contact Savills on 02920368912.
The consultation is being undertaken in light of COVID19 and in accordance with the updated guidance contained within The Planning Applications (Temporary Modifications and Disapplication) (Wales) (Coronavirus) Order 2020.
Comments should be sent:
By email to planningconsultation@savills.com or;
Addressed to Planning Consultations, Savills, 2 Kingsway, Cardiff, CF10 3FD.
The Pre-Application Consultation period runs from 2nd November 2020 until 30th November 2020.
A summary of comments received and how they have been responded to will be incorporated into a Pre-Application Report to be submitted as part of the planning application.
Please note that this is a separate process to the consultation that Bridgend County Borough Council will carry out when the application is formally submitted. Any views that you wish for us to take into account should be provided direct to the addresses above.
---